Children's Dentistry – Manchester Center, VT
Invest in Your Child's Smile Today!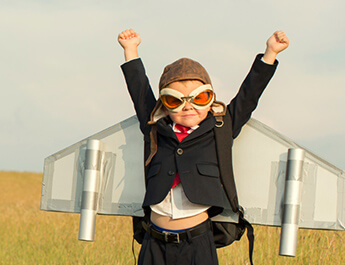 You know adults should see their dentist twice a year for a cleaning and checkup, but what about your children? Although the baby teeth eventually fall out, they also require routine care from a children's dentist in Manchester. Ignoring semi-annual appointments leaves them vulnerable to oral health issues that not only affect their smile but also their development. To encourage a healthy smile throughout their life, it is best to start an oral hygiene routine before their first tooth erupts and schedule an appointment with Dr. Jonathan E. Mason before their first birthday.
Set the Foundation for a Healthy Smile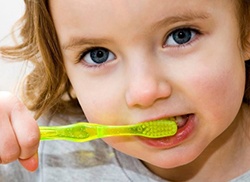 Your child's primary teeth allow them to learn how to chew and speak correctly. They also serve as placeholders for the permanent teeth. While they are only in place for a few short years, they require proper care. To help encourage your child to remain committed to their dental health throughout their life, it is best to start an oral hygiene routine early.
Before their first tooth erupts, use a soft cloth to clean their gums. After they begin to get their baby teeth, use a small soft-bristled toothbrush and fluoride toothpaste to clean all surfaces of their teeth twice a day. As the spaces between their teeth close, incorporate daily flossing into their routine.
Complete Children's Dentistry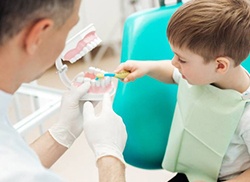 The sooner your child visits the dentist, the better. This allows them to develop a trusted relationship with Dr. Mason for stress-free appointments. Our staff has extensive experience dealing with the unique comfort levels of children to help them relax.
Cleaning
Our dental hygienist gently removes plaque and tartar from your child's teeth and polishes them for a clean smile. They also take the time to discuss your child's oral hygiene habits to make recommendations for improvement.
Digital X-Rays
Digital x-rays are used to gain a complete picture of your child's oral health, even structures that cannot be seen from the surface. Digital x-rays are safer than traditional film ones while also more comfortable and quicker for a pain-free appointment.
Checkup
Dr. Mason provides a complete checkup of your child's oral health. He takes the time to discuss his findings with you and address any concerns, like thumbsucking. If your child needs additional care, he discusses the treatment options and answers any questions you or your child may have.
Fluoride Varnish
To help strengthen your child's enamel, we may recommend a fluoride varnish. This is a pain-free preventive treatment to help reduce the risk of tooth decay.
Dental Sealants
Dental sealants are a protective barrier applied to cavity-prone areas, like the chewing surfaces of the molars. This helps to prevent cavities to keep their teeth healthy.
Promote a Healthy Smile Today!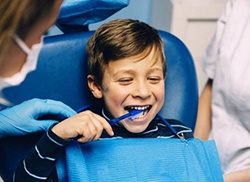 Our Manchester practice loves treating young smiles. Using a focus on prevention and education, we equip your child with the skills they need to maintain excellent oral health throughout their life. Contact our office today to schedule their first visit. We look forward to meeting your family.