Dental Implants — Manchester, VT
Permanently Replace Your Missing Teeth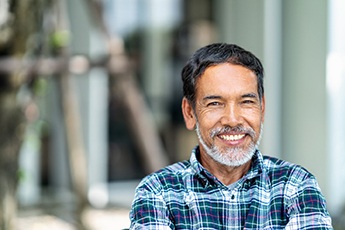 When it comes to replacing your missing teeth with the next best thing, nothing compares to dental implants. Loved by both patients and dentists alike, this state-of-the-art restoration offers unmatched longevity, comfort, function, and appearance. At Mason Dental, we can permanently replace your missing teeth with this revolutionary treatment so you can get back to enjoying your healthy, confident, and complete smile! If you'd like to get started or learn more about this option, contact us today to schedule your consultation.
Why Choose Mason Dental for Dental Implants?
Teams Up With Experienced Oral Surgeons
Advanced Dental Technology and Techniques Utilized
Reasonable Dental Fees and Flexible Financing Available
What Are Dental Implants?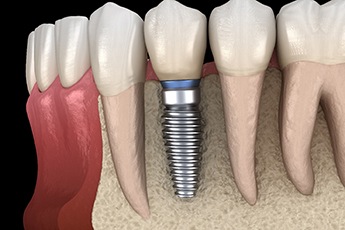 Dental implants consist of a titanium post that integrates with your jawbone, a restoration (which can be either a crown, bridge, or denture,) that goes on top, and an abutment that connects them together. By addressing the missing root once a tooth is removed, you're able to revitalize many restorative aspects of your missing teeth that you won't be able to gain from traditional bridges or dentures. Their longevity, function, and esthetics are just a few of the reasons why dentists like Dr. Mason and Dr. Guy recommend them to patients in Manchester every day!
The 4-Step Dental Implant Process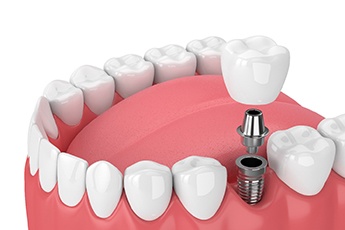 Replacing missing teeth from the roots up might sound complicated, but in most cases, the dental implant process has four basic steps. Before beginning treatment, our team can gladly explain how dental implants work in Manchester and what to expect throughout the process. Although dental implant treatment takes longer than that of bridges or dentures, the long-term benefits that this solution provides make it worth waiting for!
Initial Dental Implant Consultation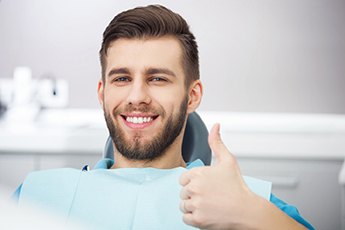 As with any dental treatment, the process of getting dental implants starts with a consultation. At this meeting, our dentists can perform a full assessment of your smile. We'll capture detailed X-rays, evaluate the state of your oral health, and discuss the specific needs and goals you have for your new teeth. This appointment also lets us know whether you require any preliminary treatments before dental implant placement, such as bone grafting to fortify a jawbone that has deteriorated after tooth loss. Essentially, this consultation is crucial to the long-term success of your implants.
Dental Implant Surgery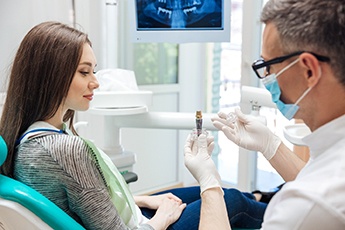 Since dental implant placement involves a surgical procedure, we partner with the finest oral surgeons and periodontists in the area. These highly trained specialists are able to maximize the success of your procedure and ensure that this step in your journey towards a new smile goes as smoothly as possible.
Rest assured that you shouldn't feel pain during your dental implant surgery. The implant dentist in Manchester will administer anesthetic and/or sedation to ensure that you're comfortable and relaxed. Next, they'll open your gums to access your jaw and insert the implant posts at precise, pre-determined locations and angles. Lastly, healing caps are placed over the implants to protect them as you begin healing.
Dental Implant Osseointegration & Abutment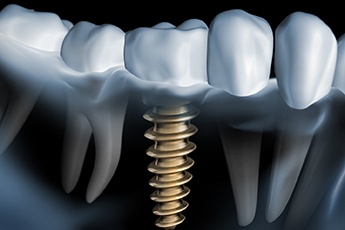 During the next phase of treatment, the implant posts stimulate new bone growth in your jaw. As a result, they become permanently attached, creating a sturdy foundation for your replacement teeth. This process, called osseointegration, is what allows implants to last as long as they do.
Osseointegration usually takes three to six months, but once it is done, it's time to receive your abutment. The abutment is a small metal connector piece that lets us secure your restorations on top of your dental implants in Manchester.
Delivery of Dental Implant Restoration(s)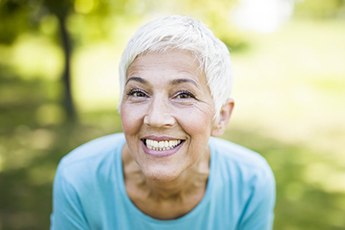 After osseointegration is complete and your abutments have been placed, you'll return to our office to have impressions taken of your mouth. These measurements are sent to a partnered dental lab, where your dental crown, bridge, or denture is fabricated to our exact specifications. Once your new teeth arrive at our office, we'll anchor them onto your abutments, and voila! Your smile will look and feel as if you had never lost any teeth at all!
Benefits of Dental Implants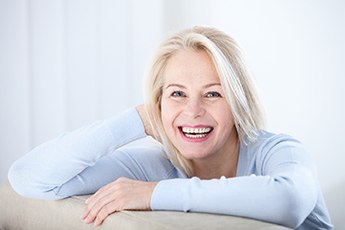 Millions of people have chosen to rebuild their smiles with dental implants thanks to their wide range of benefits, such as:
Restored dental function: Continue to enjoy all your favorite foods and drinks with dental implants.
Lifelike appearance: Once your dental implants are placed, they'll be nearly indistinguishable from the rest of your smile!
Long-lasting results: With the proper care, you can easily expect your newly rebuilt smile to last for many decades to come.
Who Dental Implants Can Help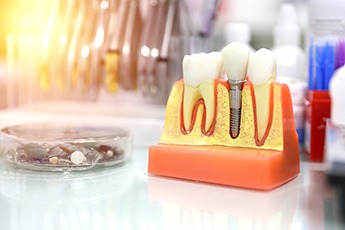 Whether you're looking to restore a missing tooth or replace your traditional dentures or fixed bridge, dental implants in Manchester offer an excellent solution. Implant restorations boast an incredibly lifelike look, feel, and function. As a result, patients can look forward to years of improved health and wellbeing.
Missing One Tooth
Unlike dentures or fixed bridges, dental implants replace a missing tooth both above and below the gumline. This unique restoration won't irritate your gums or harm your natural teeth. Instead, a small titanium post can be surgically placed into the jawbone and then topped with a beautiful, custom-made dental crown to seamlessly complete your smile.
Missing Multiple Teeth
If you have several missing teeth in a row, they can all be replaced at once with the help of an implant bridge. Two implants can be inserted on either side of the gap to anchor the new dental structures firmly in place. This provides superior support without relying on the adjacent healthy teeth.
Missing All Teeth
While traditional dentures can help complete a full set of pearly whites, their close, custom fit isn't guaranteed to last. Millions of patients around the country deal with uncomfortable, unreliable dentures that need to be replaced periodically. Thankfully, with just a few strategically placed implants, an implant denture can dramatically improve biting force, comfort, and oral health.
Understanding the Cost of Dental Implants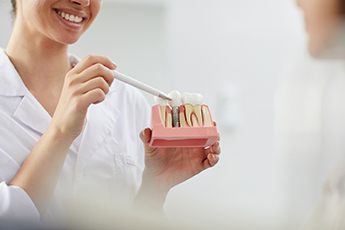 If you have gaps in your smile and are interested in your options for replacement, you will find that dental implants are far superior compared to other methods -- and that they also come at a higher cost. But how much should you budget, exactly? We've got more on the factors influencing the price of dental implants below.
What Determines Dental Implant Cost?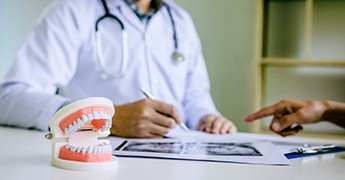 The only way to know just how much you can expect to pay for a dental implant procedure is to schedule a consultation with our office. When you do, Dr. Mason will examine your smile and consider the following factors to give you a good estimate of how much you can expect to pay for dental implant placement and restoration. The factors that most influence your final cost of treatment include the following:
The health and strength of your jawbone: For patients who have lost significant tissue due to degeneration following tooth loss, or for areas in the jaw where there wasn't that much bone tissue to begin with, a bone graft procedure may be required. This preliminary step adds to the total cost of your dental implantation.
How many dental implant posts are required: Because dental implants are individually priced, the number of teeth you are missing will affect the total cost of the procedure.
Location of the dental implant: Due to complex aesthetic concerns, front teeth may be more costly to replace than molars and premolars.
Special considerations: This includes whether or not you need additional sedation or anesthesia for a complex case or for calming nerves.
Based on all of this information, we can give you an appropriate estimate to help you budget for your dental implants.
Does Dental Insurance Cover Dental Implants?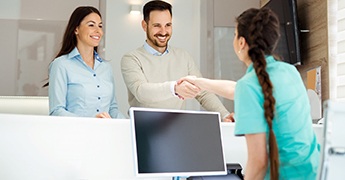 In addition to providing you with an estimate for the cost of your dental implant procedure, we can also discuss tactics for making the treatment more affordable during a consultation. Unfortunately, most dental insurance plans still fail to provide coverage for dental implants -- despite the fact that they are well-known as being the best option in tooth replacement. Don't hesitate to ask us about tactics for making dental implants fit within your budget. It's well worth it for this high-quality, comprehensive tooth replacement!