Custom Dentures in Manchester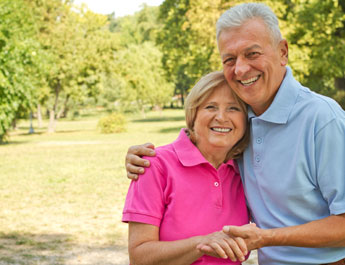 A denture is a set of prosthetic teeth affixed into a plastic base that looks just like your gum tissue. Dentures are customizable to blend well with any surrounding natural teeth and your facial structure.
A full or complete denture replaces an entire arch of missing teeth in the upper or lower jaw. An upper denture is molded to fit into the roof of your mouth. A lower denture is shaped like a U to accommodate the movement of your tongue.
A partial denture fills gaps in the smile when there are still healthy natural teeth remaining in the gum. It fits in with your surrounding teeth like a missing puzzle piece, and is secured in the smile with metal clasps.
Dental implants can also be used to retain a full or partial denture. Because dental implants offer increased stability and better oral health, Dr. Mason will urge eligible candidates to choose an implant-retained option if health and finances allow.
Getting a Denture
The process for a traditional denture usually takes about a month. To begin, Dr. Mason will evaluate your smile and determine the best method for replacement. We will take impressions, or molds, of your jaw and any remaining natural teeth. This information is sent along with the specifics outlined in your treatment plan to a trusted laboratory. Here, your denture is crafted from the best materials specifically for your smile.
After your denture has been created, you return to our office to try it on and we make any adjustments as necessary. When everything is just as it should be, we send you on your way with detailed instructions for adjusting to and maintaining your denture. Follow them closely and visit our office for routine follow-up appointments and you'll be smiling confidently for years to come!
Denture Maintenance
Take good care of your denture to make sure it lasts for as long as possible. Due to gradual changes in your mouth and normal wear and tear, you'll need to have your denture replaced approximately every 5 to 7 years. You should clean it with a mild hand soap or denture cleanser at least once daily, and brush it or rinse it with water after each meal. Soak your denture at night while you sleep. Hot temperatures could cause the prosthetic to warp or lose its fit, so be careful while cleaning and soaking it. If your denture becomes uncomfortable or rubs sores in your mouth, don't hesitate to contact your dentist in Manchester for an adjustment or replacement.
Questions? Contact Us Today!
If you have questions about your tooth replacement, like whether or not traditional dentures or an implant-retained prosthetic is better for you, please don't hesitate to get in touch with your restorative dentist in Manchester. We invite you to request an appointment with Dr. Mason today!