Restorative Dentist in Manchester Can Give You Teeth In a Day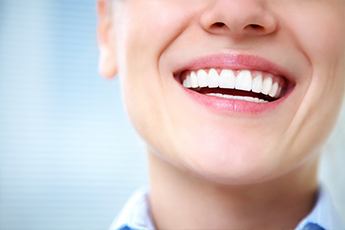 If you have lost all of your teeth in your upper or lower jaw, your restorative dentist in Manchester has a wonderful solution with All-on-4 dental implants. This revolutionary method replaces a full row of missing teeth in the upper or lower jaw with an implant-supported denture. And we also call it Teeth In a Day, because the dental implants can be restored in the very same day as implantation. It is a wonderful option for people who are missing all of their teeth -- keep reading to learn more about All-on-4 from Dr. Jonathan E. Mason.
How Does All-on-4 Work?
All-on-4 can retain a complete denture on as few as 4 dental implants, but your dentist may recommend the placement of 5 or 6 implants for additional security. The method works by strategically placing dental implants into the front and along the sides of the mouth, where the jawbone is the strongest. The type of dental implant used in All-on-4 is longer than a traditional implant post, so the denture receives the maximum support from your jawbone. Once the denture is affixed onto the dental implants, it cannot be removed except by your dentist.
Treating Nonrestorable Teeth on the Same Day
In some cases, we can remove teeth that can't be saved and replace them with a fully-functioning prosthetic on the very same day. All-on-4 dental implants work well in cases of severe tooth decay, periodontal disease, or injury or fracture that leaves the teeth beyond repair. Your dentist can remove the teeth and place the appropriate number of dental implants to support the complete denture. Thanks to the advanced All-on-4 technology, you won't have to spend any time without teeth.
What Are the Benefits of All-on-4?
All-on-4 offers a number of advantages for people who are edentulous, or who have lost all of their teeth. Missing teeth cause jawbone degeneration, and people who have dealt with tooth loss for a long time may lack the stability for successful dental implant anchoring. Preparatory bone grafting procedures can help, but they may be too costly or time-consuming for some patients. Because the strategic angling of the implants draws maximum security from the jaw, All-on-4 often eliminates the need for bone grafting procedures.
Additionally, because fewer dental implants are needed than with traditional dental implants, All-on-4 often offers a more affordable solution than is possible with conventional implant dentistry. And because the denture can be placed on the very same day as implantation, you don't have to wait any time to enjoy your sturdy, secure, and complete smile!
All-on-4 vs. Traditional Dentures
Compared to traditional, non-implant retained dentures, All-on-4 offers improved stability and a long-lasting replacement option.
Some of the differences between All-on-4 and dentures include:
All-on-4 dentures are a fixed, non-removable replacement option.
There is no need for denture creams or adhesives with All-on-4.
No risk of oral sores or discomfort from a loose, slipping denture.
All-on-4 dentures last longer than non implant-retained prosthetics.
Renewed ability to eat what you like, even biting into crunchy apples or corn on the cob.
Speak without the lisps or whistles that can occur with an ill-fitting denture.
Talk to Us About Implant-Retained Dentures!
If you are dealing with a loose or uncomfortable denture, All-on-4 may provide the solution you have been hoping for. Request an appointment with Dr. Mason to discuss Teeth In a Day in Manchester!