Manchester Cosmetic Dentist Building Beautiful Smiles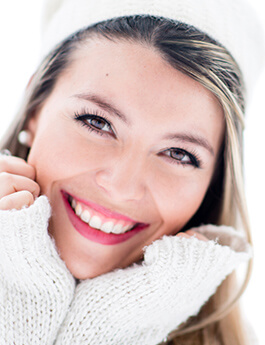 What's the first thing others will notice about you? In many cases, it's your smile. A beautiful smile can be a confidence-booster, but a stained, cracked, chipped, or misaligned smile can have a damaging effect on one's self-esteem. With that in mind, Dr. Mason offers many popular cosmetic dental services. With these treatments and our commitment to personalized service, you can look forward to achieving the smile of your dreams in a few visits.
Porcelain Veneers
If your smile has gaps, stains, or oddly spaced teeth, let us talk to you about what's possible with porcelain veneers. With this popular service, we create dazzling results in just a couple of visits. Veneers are made from thin sheaths of quality, durable porcelain layered over the front of your teeth to hide most common imperfections. The most modern and carefully designed veneers look completely natural once in place and complement your overall appearance.
In most cases, a full veneer procedure can be completed in just two visits, not counting your initial consultation exam. During your first visit, Dr. Mason preps teeth by removing a small amount of surface material. Removing this enamel is important because it lets your veneers lay flat against teeth and look more natural. We'll also create a custom designed veneer, and then place a temporary set.
When your veneers are ready, you'll return to have your temporaries replaced with the permanent set. Following your procedure, proper care and maintenance of veneers is essential. Simply brush and floss like normal and maintain routine exams and cleanings with Dr. Mason.
Would you like to learn more about porcelain veneers? Contact our office to schedule a consultation visit with Dr. Mason. We always look forward to creating beautiful smiles for our patients.
Teeth Whitening Treatments
In addition to offering in-office whitening, Dr. Mason also offers take-home whitening. This option is sometimes better suited for patients with sensitive teeth, as in-office whitening may result in mild discomfort for these patients. Take-home whitening uses a set of customized whitening trays and professional-strength whitener. Though results take longer to achieve, patients using take-home whitening still achieve a whiter, more confident smile.
Tooth-Colored Fillings
If you need to have dental fillings placed, you'll be happy to know that our office uses tooth-colored fillings instead of the traditional amalgam fillings that dentists relied on in the past. Tooth-colored fillings blend in with the natural enamel color to provide durable and discreet results. But the differences between tooth-colored fillings and amalgam don't stop there. Contact our office to learn more.
All-Ceramic Restorations
Dental restorations can be made from a variety of materials including gold, but our Manchester dental office prefers to use all-ceramic restorations whenever possible. All-ceramic restorations are durable, but more than that, they have a more natural appearance. Would you like to learn about receiving care with an all-ceramic restoration? Give our office a call to schedule a visit with Dr. Mason and his team.