Restorative Dentistry for Manchester Families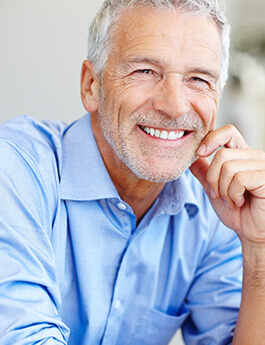 Do you need help restoring your smile's health, beauty, or functionality? Our Manchester dental team would love to help you. With our comprehensive dentistry services, we're confident we can deliver the help your smile needs. To learn more about our services, or to schedule a consultation with Dr. Mason, please give us a call. One of our helpful team members would be happy to schedule an appointment for you.
Traditional Dental Crown & Bridge
If you're self-conscious about a cracked, broken, decayed, or worn tooth, Dr. Mason can help you reclaim health and wellbeing with a custom crafted dental crown. Dental crowns are designed to fit snugly over vulnerable teeth, restoring structure, strength, and appearance. In most cases, a crown can be completed in two short visits. In the first, Dr. Mason preps the tooth, takes an impression that our lab uses to design the final crown, and places a temporary. At the second appointment, your temporary will be removed and replaced with a permanent crown.
Learn More about Dental Crowns
A bridge is a dental prosthetic for patients who need to replace a missing tooth. Bridges consist of at least one replacement tooth and two abutment crowns. These crowns are placed over surrounding teeth and provide the entire prosthetic with strength and stability.
Learn More about Dental Bridges
For some patients, an implant-supported alternative may also be considered.
3M Digital Impressions
In the past, when a dentist needed to take an impression of a patient's bite, the patient would have to suffer through a process involving uncomfortable, unpleasant tasting goop that could cause gagging or anxiety. Thankfully, this old way of doing things has been replaced by superior technology. With our advanced imaging tool from 3M, we take detailed digital impressions in a matter of seconds without needing to use the goopy, uncomfortable materials. As a result, patients look forward to a more comfortable treatment experience.
Not every dental office offers this excellent service. Dr. Mason's Manchester practice is the first in Vermont to make this technology available to patients. To learn more about how it works, we invite you to give us a call with questions. We're proud to offer advanced dentistry to patients from Manchester and nearby communities.
Root Canals
When one of your teeth develops a deep cavity or sustains trauma, it's possible for it to become infected deep inside, where the nerve resides. In addition to causing sensitivity and pain, this infection eventually results in the need for an extraction if it isn't addressed with root canal therapy.
In the past, patients in the Manchester area would drive 40-plus miles to have a root canal completed by a specialist, but Dr. Mason is proud to offer root canal therapy to his Manchester patients. Now you can get the essential care you need without the inconvenience of traveling to a specialist.
During a root canal, Dr. Mason cleans out the affected tooth, removing both the nerve and signs of infection. A protective crown is placed over the tooth to restore its strength and appearance and prevent further infection.
Learn More About Root Canals
Wisdom Tooth Extractions
While most adult teeth have come in by the time we're 12 or 13, wisdom teeth (also known as third molars) don't begin to develop until close to the age of 17. Unfortunately, our jaws don't typically have room for these teeth, and allowing them to erupt leads to complications like crowding or impaction.
Previously, patients in Manchester would need to travel 40 or more miles to have their wisdom teeth removed, but Dr. Mason has the training and experience to provide wisdom tooth extractions locally. With sedation dentistry, you can look forward to a comfortable, anxiety-free experience. Our office is proud to offer three types of sedation: nitrous oxide, oral conscious, and IV sedation, which Dr. Mason is certified and trained in.
Would you like to learn more about the extraction process and patient comforts we offer? Contact our office today.
If you're missing or need to replace multiple damaged teeth, you're not enjoying the quality of life you deserve. Thankfully, that can change with a custom-made partial or full denture from Dr. Mason. Our Manchester office is dedicated to offering custom removable prosthetics for patients in your situation. With a set of well-fitting dentures, we improve your ability to enjoy nutritious but difficult to eat foods.
Dentures also improve confidence and self-esteem. Imagine smiling openly with your friends or family members again. With a specially made prosthetic from our Manchester office, you can.
Schedule Your Consultation Today
Would you like to begin the process of transforming your smile with a partial or full denture? Don't hesitate to contact Dr. Mason's dental office. One of our helpful team members will gladly schedule an appointment for you. During your visit, Dr. Mason assesses your needs and creates a personalized plan to help you.