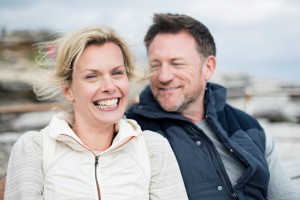 If you've got one or more missing teeth, we know those gaps in your smile are probably taking away from your overall quality of life. But they don't have to anymore. Enjoy all the (delicious) things our city has to offer with full gusto this fall! Consider a sturdy tooth replacement with a full or partial denture. Dr. Mason provides high quality, natural-looking dentures in Manchester Center.
What's a Denture?
In some form or other, dentures have been used to replace missing teeth for hundreds of years. Of course, today's dentures are better than ever. A set of prosthetic teeth attached to a gum-colored base, the denture can be used in the upper or lower jaw.
A full denture replaces a complete arch of missing teeth, while the partial denture takes the place of several missing teeth when one or more healthy teeth remain in the gum line. When not supported by dental implants, a full denture is held in place using suction or with the help of a denture adhesive. A partial denture uses clips and brackets for stability.
Living With Dentures Is Easier Than You Think
After you have adjusted to your new teeth, living with your denture is not so different from what you are already used to. Pretty soon you will be back to eating all of your favorite foods and speaking just like you're used to — or better.
To speed up the adjustment phase with your denture, cut your food into smaller pieces until you are used to eating as normal. You can try reading aloud to yourself, too, to adjust to speaking with your denture. Most importantly, don't give up on your denture! Keep wearing it as directed and you will speed through the adjustment phase.
Taking Care of Your Dentures
To keep your denture clean and looking great, keep the following maintenance tips in mind.
Rinse your denture after meals and snacks, and clean your mouth with a soft-bristled brush every time you remove your denture.
Handle the denture carefully. Place a towel on the surface to cushion the fall if you accidentally drop your denture.
Soak your dentures at night to give your mouth a break from the prosthetic and to help them keep their shape.
Stay alert for any signs that your denture is not fitting the way it should. Have your dentist check out a denture that is loose, uncomfortable, or that slips around.
With good care, your denture should last for five to seven years before it needs replacing.
Dental Implants Can Retain Dentures, Too
If you are an eligible candidate for dental implants, know that nothing provides as much stability for a full or partial denture. Dental implants are the only comprehensive tooth replacement option available today, giving you back your missing tooth as well as its root. Not everyone is a good candidate for dental implants — schedule an appointment with your dentist to discuss which tooth replacement option is best for you.