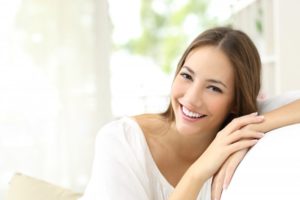 Due to the COVID-19 pandemic, video calls have become an important way to connect with others while maintaining social distancing. Whether you're virtually meeting with family, friends, or coworkers, your smile is being broadcasted farther than ever before. Suddenly, it can feel like there's a spotlight on your crooked teeth. Thankfully, you can get a straight smile that you can't wait to show off thanks to a modern orthodontic treatment called ClearCorrect!
What Is ClearCorrect?
Do you want a beautiful smile, but are nervous about showcasing a mouth full of metal for months or years to achieve it? With ClearCorrect, you don't have to sacrifice your appearance now to get straighter teeth in the future. This modern orthodontic treatment uses a series of clear plastic custom-made aligners that gently shift your teeth into place. They're removable, comfortable, and nearly invisible in order to blend into your normal lifestyle.
How Does the ClearCorrect System Work?
Your journey towards a straight smile begins with a trip to your Manchester Center dentist. First, they'll review your medical history and closely inspect your dental structure to determine if ClearCorrect is the best option for you. If it is, your dentist will make a custom treatment plan for you and create a set of personalized clear aligners. Depending on your unique situation, you may need a series of 6, 12, or more aligners.
Each aligner should be worn all day aside from eating, drinking, and brushing your teeth. Over the course of three weeks, the aligners will press against your teeth and gradually move them into place. Then, you'll move onto the next set and the process will start again. You'll visit your dentist periodically to evaluate the results and ensure your treatment is going as planned.
Are There Advantages to Choosing ClearCorrect?
ClearCorrect aligners are designed to be the most aesthetically pleasing way to get the straightened smile you've always wanted. However, they also provide benefits like:
Their removable nature makes it easy to keep them and your teeth clean during your treatment.
Shorter checkup visits with your dentist compared to other orthodontic options.
Faster average treatment time than traditional metal braces.
Is ClearCorrect Right for Me?
While ClearCorrect isn't right for everyone, it is often used to correct issues like:
Crowded, crooked, or rotated teeth.
Noticeable gaps and spaces between teeth.
Jaw alignment issues like overbite and underbite.
Don't let misaligned teeth or a mouth full of metal wires and brackets become a distraction during your next video call. See your dentist today and begin your journey to a straight, confident smile with ClearCorrect!
About the Practice
Dr. Jonathan E. Mason and Dr. Nicholas M. Guy of Mason Dental are proud to provide innovative and comfortable dentistry to the smiles of Manchester Center, VT and the surrounding communities. Their commitment to life-long learning allows them to stay current with the latest dental technologies and techniques. They offer a variety of state-of-the-art treatments, including ClearCorrect. If you'd like to begin your journey to a straighter smile, feel free to contact them via their website or at (802) 362-1099.