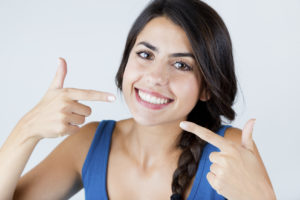 The holidays are an exciting time of year as you anticipate spending time with family and friends. However, what you do not look forward to is another year feeling insecure about your teeth and hiding your smile due to their imperfections. Now, you can get the smile of your dreams just in time for the new year with your cosmetic dentist in Manchester. Your dentist will create a customized treatment plan with solutions that will help you achieve your desired results to feel confident about your appearance.

Transform Your Smile Today
While cosmetic dentistry was often viewed for the elite or the vain in the past, people from all walks of life now turn to it. It is more affordable than ever while offering more natural results using minimally invasive procedures. Based on your individual preferences, your dentist may recommend one or more treatments to help you get the results you want.
Porcelain Veneers
Porcelain veneers are quite versatile, allowing them to improve the size, shape, proportion, and color of the teeth. By attaching the thin shells to the front side of the teeth, your imperfections are hidden in as little as two appointments. Not only can you cover chips, cracks, and discoloration, but you can also make the teeth appear straighter and more proportionate.
Teeth Whitening Treatments
Nothing lowers your confidence faster than a dull smile. While tooth discoloration is a natural part of the aging process, poor oral hygiene, foods and drinks, and bad lifestyle choices can accelerate the issue. To restore a bright, white appearance, professional teeth whitening treatment can help. Now, you can get your teeth several shades whiter at home or in-office.
Tooth-Colored Fillings
Although metal fillings are effective for treating tooth decay, they can cause an eyesore in your smile. Now, the restorations can blend in seamlessly with your teeth using a composite resin material. It is customized to match your enamel color, so no one will be able to tell that the filling is there.
All-Ceramic Restorations
If a dark dental crown has left you feeling insecure, an all-ceramic restoration will transform your confidence. Using high-quality and durable materials, it will look like a natural tooth. It will be made to match your exact specifications, including the size, shape, and color you need to improve the appearance of your smile.
Get a Beautiful Smile Today
As the end of the year approaches, invest in yourself with a new smile. Your cosmetic dentist will help you get the smile of your dreams to start the new year with a positive outlook.
About Dr. Jonathan E. Mason
Dr. Jonathan E. Mason provides outstanding dental care to the community. In addition to creating healthy teeth and gums, he also provides many areas of specialty care, including cosmetic dentistry. Due to his advanced training and qualifications, he provides an array of elective procedures to improve the appearance of the teeth. If you are ready to get the smile of your dreams, Dr. Mason will work with you to find the ideal solutions to meet your needs.