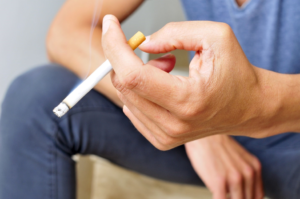 Smoking cigarettes not only poses a grave threat to your overall health, but it also wreaks havoc on your smile! From stained teeth to severe gum disease, the negative impact that cigarettes, cigars, tobacco, and similar items have on one's oral health cannot be overstated. That said, if you're a smoker yourself, you should consider kicking the habit altogether, at the very least for the sake of your pearly whites! Here's some useful information from your trusted dentist about how cigarettes can have life-affecting consequences on your body and smile, along with some tips for replacing those frequent cigarette breaks with something more productive and healthier!
How Can Smoking Cigarettes Harm My Oral Health?
If you think about what the act of smoking a cigarette actually involves, which is the inhalation of an assortment of chemicals, it's easy to deduce why this would be bad for you—often, lung cancer is brought up in the same conversation as smoking, among other serious issues. However, there are many specific problems relating to dental health that are exacerbated by cigarette smoke, including these four:
Stained Teeth – The tar and nicotine in cigarettes can lead to unsightly yellow or brown discoloration that can be difficult to reverse.
Tooth Decay – Smokers experience an increase in plaque and tartar buildup on the teeth, which can lead to cavities and decay if left unaddressed.
Gum Disease – Smoking weakens the immune system, making it harder for the body to fight off nasty gum infections that can even threaten your teeth.
Oral Cancer – Tobacco use is the leading cause of oral cancer, which affects the tongue, lips, cheeks, tongue, and other oral structures.
How Can I Kick the Tobacco Habit?
It goes without saying that breaking your cigarette habit will greatly benefit your bodily wellness and dental health, regardless of how long you've been smoking! Here are some tips to help you do this:
Consult a Professional – It never hurts to consult a professional for advice that's tailored to your specific circumstances; everyone is different and has varying experiences when quitting.
Chew Sugar-Free Gum – Smoking often leads to patients having a slight oral fixation; however, chewing sugar-free gum can easily satisfy this, while also stimulating your mouth's flow of saliva, which helps neutralize harmful acids and bacteria.
Have a Healthy Snack – When the craving for a cigarette hits, you might consider eating a healthy snack instead. A ripe piece of fruit or crisp veggie has numerous bodily and dental benefits, and also supports your immune system which shields you from gum disease.
Distract Yourself – Consider activities that'll prevent you from isolating yourself for that smoke break, including things like calling a friend, doing a household chore, or even exercising.
Brush Your Teeth – You should be brushing your teeth twice a day anyway—so why not replace one of your smoke breaks with an oral care break?
By replacing your cigarette breaks with positive habits and investing in your oral wellness, you're not only saving your smile but also enhancing your general wellness for many years to come!
About the Author
Dr. Jonathan E. Mason received his dental doctorate from the University of Connecticut School of Dental Medicine and has proudly served patients and families in the Manchester, VT community for several years. If you have any questions about the blog or you'd like to set up a visit for you or a loved one, feel free to contact Dr. Mason through his practice's website or over the phone for assistance. Telephone: (802) 362-1099.