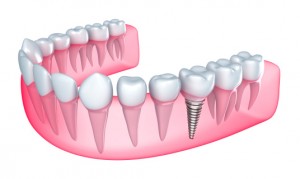 When you have missing teeth, the ramifications are more than just what you see in the mirror. Yes, the gap in your smile can be quite embarrassing, but there are other consequences beyond your appearance that make tooth replacement essential. Having even one missing tooth can impact your ability to eat a well-balanced diet and speak clearly. Many of Dr. Mason's patients opt for dental implants when they need to replace teeth. Dental implants in Manchester Center will not only rebuild your smile, but will also provide you with strength and stability that is similar to a natural tooth.
Trust Manchester Dentist Dr. Mason
Because Dr. Mason is trained in oral surgery, he is a general dentist that is uniquely qualified to place dental implants. Dr. Mason will meet with you to determine whether or not dental implants are the best tooth replacement option for you. A successful implant procedure requires adequate bone volume. If a dental implant is not your best option, then Dr. Mason will be able to recommend another choice.
What are Dental Implants?
A dental implant is a tooth replacement that stands in for both the visible and covered portion of a missing tooth. Other tooth replacements, such as dentures or a crown and bridge, only replace the crown of a tooth—that portion above the gum line. These may look terrific, but without a tooth root there's a good chance bone volume in your jaw will decrease. As a result, you'll eventually notice that your face begins to look sunken and your overall appearance becomes more aged looking. With dental implants in Manchester Center, you can avoid this unattractive consequence.
The Dental Implant Procedure
Dental implants are placed in two phases. During the first phase, the implants are strategically positioned in your jaw. How many implants are necessary will depend on the extent of your tooth loss. Dental implants can be used to replace one, several or all of the teeth along an arch. Implant-retained dentures combine the aesthetic appeal of a full set of teeth with the secure anchoring of dental implants.
While you heal from surgery over the course of a few months, the implants and surrounding bone fuse together. This is what provides that secure anchor and prevents bone loss.
The second phase of dental implants completes the process. Dr. Mason permanently attaches the appropriate tooth restoration, which can be a porcelain crown, a crown and bridge or a fixed denture.
For Dental Implants in Manchester Center, Call Today
If you would like to learn more or to find out if you qualify for dental implants, call the office of Dr. Jonathan Mason.