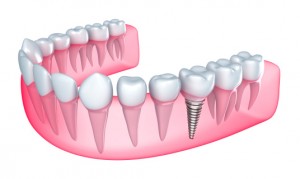 Your dentist will be with you every step of the way as you rebuild your smile with dental implants in Manchester. Of course, that doesn't mean you can't ask questions about implants and the procedure you're about to have.  Read on for answers to some of the most commonly asked questions.
Is Getting Dental Implants Painful?
That's probably the most frequent question people ask. At the start of the procedure, the dentist in Manchester administers a local anesthetic to the site. Once the anesthesia takes effect, you will not feel any pain. Some pressure may be noticeable as the dentist works, but your safety and comfort will be maintained throughout the procedure.
How Will I Feel After Surgery?
For patients needing only one dental implant, the recovery afterwards is fairly easy. Many say they can return to work after their appointment. If more than one implant is placed during a single visit, then you may need a couple of days to rest. While recovering, you'll want to stay well hydrated, eat soft foods such as soups, yogurt and pasta, and brush gently around the surgical site.
How Long Does the Entire Process Take?
Depending on the treatment plan your dentist devises, the entire dental implant process usually takes between two to nine months. During this time, the implant and surrounding bone tissue fuse together so you have a solid foundation for your eventual tooth restoration. Once the implant is firmly embedded, the restorations are fabricated and attached to the implants.
How Long Should Dental Implants Last?
Dental implants are designed to last a lifetime. You will need to maintain strict oral hygiene at home with daily brushing and flossing. Regular dental checkups are also important to ensure the integrity of each implant and that there are no signs of infection.
What are the Oral Health Benefits of Dental Implants?
Unlike a bridge or partial denture, a dental implant is a stand-alone prosthetic that does not impinge on adjacent teeth. And because dental implants replace both the root and crown of a missing tooth, your smile will not only look better but also your jaw will be healthier. The implant stimulates healthy new bone tissue growth just as a natural tooth root does.
How Much Do Dental Implants Cost?
The average cost of a dental implant in Manchester is around $2,000. Dental insurance may cover a portion of the cost such as the restoration, so check the details of your plan.
ABOUT THE AUTHOR
Dr. Jonathan E. Mason earned his dental degree from the University of Connecticut School of Dental Medicine before completing his 1-year residency at the VA Medical Center in Philadelphia. To learn more about dental implants or about his practice, contact Dr. Mason at (802) 768-9304 or visit his website.