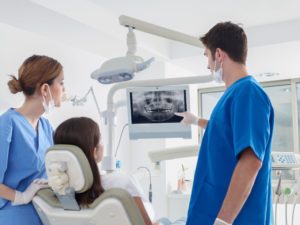 Technology helps us do everything these days, from helping to diagnose disease to choosing a place to go for lunch. Medical technology has exploded just as much as personal tech has. This helps all types of doctors, including dentists, treat you more easily and comfortably. Keep reading as a dentist in Manchester discusses the benefits of digital x-rays, a great innovation in dental technology.
CT/Cone Beam Scanner
This type of scanner allows your dentist to see much more than they would with an ordinary x-ray. Once scan can generate a 3-D topography of your entire mouth. With this technology, your dentist can examine all areas of your mouth besides just your teeth, like your soft tissue and nerves. This allows you and your dentist to create a more customized treatment plan to meet your exact needs.
Digital Radiographs
These digital x-rays appear almost instantly on a monitor next to you after they have been taken. They also require about 90 percent less radiation than traditional x-rays, so you have no reason to worry about overexposure. The images can also be stored on a computer so they can be transferred to another dental professional if need be.
Digital Impressions
Taking an impression used to involve sitting there with sticky putty in your mouth. These days, it's a whole lot easier. Your dentist can use a small wand-like instrument to capture a digital impression of your tooth. This makes crafting crowns much less of a hassle.
Digital Pan
Pan is short for panoramic. With this machine, you stand still while the machine moves around you to create a complete panoramic view of your mouth, jaw, head, and neck. This can help make complex procedures like wisdom teeth removal and dental implants more precise.
Intraoral Cameras
Sometimes you just have a hard time picturing what the dentist is talking about. With an intraoral camera, your dentist can show you in real time. He or she will use a pen-like instrument and move it around your mouth. It will show a live feed of your mouth on a screen right next to you. You can finally comprehend exactly what your dentist is saying and have a better understanding of your treatment.
X-ray technology allows dental treatment to go so much more smoothly and safely. The next time you're at your dentist's office, take the time to appreciate the technology that helps you improve your smile.
About the Author
Dr. Jonathan Mason graduated in 2006 from the University of Connecticut School of Dental Medicine. His fairly recent graduation means that he is familiar with the latest dental technology. In addition, he regularly completes continuing education hours to stay up to date and provide his patients with quality, modern care. To learn more about his expertise in modern dentistry, click here or call (802)-362-1099.