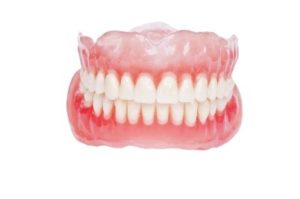 Over the years, you expected a few wrinkles and gray hairs to appear, but you were not prepared to suffer from tooth loss. Whether from decay, disease, or trauma, you are among the 35 million Americans who do not have any remaining natural teeth. To restore your oral functions, you have made the choice to use dentures in Manchester. Although they have a bad reputation for looking and feeling fake, new advancements allow them to be more realistic than before, which is why 90% of the edentulism population choose them. As you start your journey to a restored smile, it will take time to get used to them. To make the transition easier, here are a few tips to help you out.

1. Be Realistic About Your Expectations
When wearing dentures for the first time, many believe they will instantly know how to chew and speak, but this is not the case. It is not uncommon to experience some soreness and stiffness for a few days. Take your dentures out every few hours to give your jaw and gums a rest.
2. Practice Talking
Your speech may sound slurred until you get used to your new smile. Singing is beneficial to help build fluid phrases. It trains you to speak at a slower rate while forming certain words. In no time at all, you will speak with ease.
3. Give Your Cheeks Exercise
You will need to develop the muscles in your cheeks to help direct food to your throat. As with any muscle in your body, it will take time for them to strengthen. Slowly, you will notice chewing is easier. If it does not improve, you might need to have your dentures adjusted.
4. Try Different Adhesives
There is no "one size fits all" adhesive. If you experience slipping or irritation, try a different adhesive to resolve the issue. If the problem persists, it is best to call your dentist in Manchester to have your dentures adjusted.
5. Care for Your Dentures Daily
Although your dentures are not subject to tooth decay, you must maintain your oral hygiene and care for them daily. This not only helps reduce your risk of gum infections but also promotes their longevity and prevents odors. When caring for them, it is best to:
Remove and rinse your dentures after eating.
Handle them carefully.
Clean your mouth after removing your dentures.
Brush them with a soft-bristled toothbrush daily.
Soak your dentures at night.
Rinse your dentures before putting them back in your mouth.
Schedule regular appointments with your dentist.
Complete Your Smile Today!
Dentures provide a convenient and affordable solution to replace your missing teeth. You can enjoy your favorite foods again and smile with confidence with the help of your dentist.
About Dr. Jonathan E. Mason
Dr. Jonathan E. Mason is a leader for quality dental care in the community. He provides individualized solutions for his patients through all stages of life. If you are living with tooth loss, he can complete your smile. Contact our office today to learn more about your options.