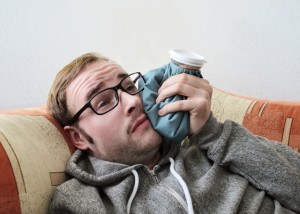 As the weather becomes warmer and days are filled with sunshine, you are likely planning a vacation to make the most of the upcoming months. A great deal of planning and preparation are involved in ensuring your vacation goes as planned. However, even with the best planning, there is something you can never fully prevent from occurring—a dental emergency. Although no one ever expects to face a dental emergency while on vacation, one in six Americans will have one this year. As a dentist in Manchester Center, Dr. Jonathan Mason offers emergency services to local residents and families vacationing in the area.

Treating Dental Emergencies
Dental emergencies can take many forms, making it difficult to determine what needs immediate care and what can wait. Often, people will choose to wait until they return back home to see a dentist because no one ever wants to have a vacation ruined by a dental emergency. However, you do not want to do this.
Time is of the utmost importance. If you delay care or try to treat the emergency on your own, it could result in irreversible damage. As a result, the tooth may not be able to be saved. As soon as you have an emergency, you need to respond accordingly and contact an emergency dentist in Manchester Center.
Knocked Out Tooth
While on vacation, you will probably enjoy some recreational activities. Unfortunately, this could lead to having a tooth knocked out. If this happens, hold the tooth by the crown and gently rinse it with water. Do not scrub the tooth, use cleaners, or dry the tooth. If possible, reinsert the tooth back into the socket. If you are not successful, place the tooth in a cup of milk.
Dislodged Tooth
Trauma to the mouth can cause a tooth to become dislodged but not fully knocked out. Try to place the tooth back into position, but do not force it. If you were successful, bite on a piece of gauze to prevent the tooth from moving.
Broken Tooth
It is not uncommon for a weakened tooth to finally break or fracture. Although you may be tempted to wait until you get home to have the tooth treated, this can lead to a bacterial infection in the tooth. You need to have the tooth treated right away. Avoid placing pressure on the tooth and apply ice to the outside of the mouth. Use over-the-counter pain relivers to manage discomfort.
Lost Restorations
23% of dental emergencies relate to a lost restoration. You may be tempted to treat the tooth on your own, but this can lead to serious problems in the future. It is best to avoid eating on the tooth while you wait for your appointment with Dr. Mason to have the tooth repaired.
Your Emergency Dentist
When facing a dental emergency on vacation, it can be difficult to contact a dentist you do not know. Dr. Mason understands your concerns. He provides the comfortable and personalized emergency services you need to get back to enjoying your vacation quickly.