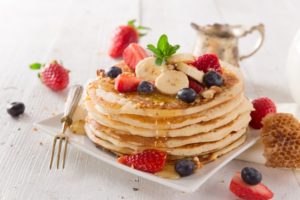 After going through the cold of winter and the busyness of the holiday season, springtime is always a welcome time of the year. It begins to get warmer, and the beauty of the world begins to bloom again. However, you just don't want your garden to flourish…you always want your smile to be in top condition, too! You managed to get through the holiday celebrations with no cavities and want to keep it up. Here are three big days in March that are fun to enjoy but should also be mindful of their impact on your smile.
#1. National Peanut Butter Lover's Day
March kicks off with celebrating one of America's favorite snacks–peanut butter! On March 1st, it is National Peanut Butter Lovers' Day. While this creamy treat is a delicious spread on healthy foods like apple and celery, you should be aware of the kind you are eating. Many brands of peanut butter add large amounts of processed sugar, which increases your chances of tooth decay. Try opting for the more natural varieties that just add salt. You can always add a bit of honey to add sweetness while also controlling your intake of natural sugar.
#2. St. Patrick's Day
This is probably the most popular holiday in March and one many people look forward to! Between all the emerald green clothing (so no one gets pinched) and the fun parades, it's a time to celebrate. However, St. Patty's Day can be harmful to your smile due to the amount of alcohol that can be consumed. On top of that, it is oftentimes even dyed green! In addition to the exposure of your teeth to constant sugar and carbohydrates, it can stain your pearly whites. It's best to avoid these colored drinks, as well as thoroughly brushing and flossing before bed so you protect your teeth from any harmful bacteria from the alcohol.
#3. Pancake Tuesday
Who doesn't love a big plate of fluffy pancakes? The day before Ash Wednesday– also known as Fat Tuesday, Mardi Gras, and Pancake Tuesday–is a day full of celebrations and feasting. For many people, it is the last day before a period of fasting. As a result, Fat Tuesday has become known as a day when you enjoy some of your favorite treats and meals for the last time before Easter. If you are going to dig into a stack of pancakes during this time, be mindful of how much syrup you are using. Instead of pouring it all over, you can put a small amount in a side dish and dunk sparingly. Or you can always choose a sugar-free or low-sugar option.
While March is an exciting month with many festive days, you don't want to neglect the health of your smile. With a bit of mindfulness, you can enjoy these fun-filled occasions and keep your smile in top condition!
About the Author
Dr. Jonathan Mason and his team at Mason Dental keep the smiles of Manchester healthy and beautiful throughout the whole year. He earned his dental degree from the University of Connecticut School of Dental Medicine and has taken hundreds of hours of advanced courses, many through the prestigious Spear Education. By offering a full range of dental services, including preventive care, he can assist you with any of your oral health needs and goals. To schedule an appointment, contact him through his website or call (802) 362-1099.