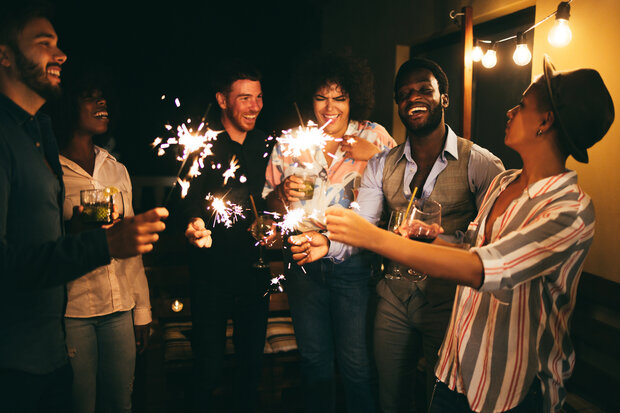 With the new year approaching, you may be thinking about what resolutions you want to come true. Maybe you want to try more restaurants. Or maybe you want to get a promotion at work. With limitless possibilities, have you ever considered making New Year's resolutions for your oral health? Read on for five ideas on New Year's resolutions you can make for a healthy smile.
#1: Brush and Floss Better
Use toothpaste that contains fluoride and a soft-bristled toothbrush to brush your teeth for two minutes twice per day. Floss at least once per day to clean away 40% of plaque from your teeth and remove food particles that have gotten stuck between your pearly whites. Get a new toothbrush every three to four months to ensure that the bristles are properly cleaning your teeth. You should also buy a new toothbrush after you get over an illness to avoid reinfecting yourself.
#2: Visit the Dentist
Make biannual appointments with your dentist so they can perform a thorough examination and clean your teeth. This will keep your oral health in good condition and allow your dentist to prevent or treat issues sooner to avoid more complications down the road.
#3: Cut Out Tobacco
If you smoke or use other tobacco products, cut them out to lessen your chances of developing cavities, gum disease, dry mouth, and other oral health issues. Ask your dentist for resources that will make it easier to quit.
#4: Show Dry Mouth Who's Boss
Saliva protects the mouth from cavities and gum disease by washing away food debris and bacteria and preventing dry mouth. It also helps neutralize acids and balance out the pH levels. If you struggle with dry mouth, some of the ways you can make it better include:
Speak with your dentist – They will be able to determine if any of the medicines you take decrease saliva production as a side effect.
Chew sugar-free gum – This will increase saliva production.
Drink plenty of water – By drinking water throughout the day, you'll keep your mouth from drying out as well as wash away food particles and harmful oral bacteria.
Drink alcohol in moderation – Alcohol can dry out your mouth, so drink it in moderation to lessen this effect.
#5: Brighten Your Smile
Drink less tea, coffee, dark sodas, red wine, and other beverages that can stain your smile. You can also ask your dentist about options to remove existing stains and whiten your teeth.
Show your smile some love by following the above tips for a healthier mouth. With the right dentist and some detmination, you can start the new year off right!
About the Practice
If you live in Manchester and need help attaining the smile of your dreams, you've come to the right place. Mason Dental offers patients an exceptional oral health experience from the moment they walk through the door. They can also assist you in achieving your New Year's resolutions for a healthy smile that you'll be proud to show off. To make an appointment or for more information, call their office at (802) 362-1099 or visit their website.