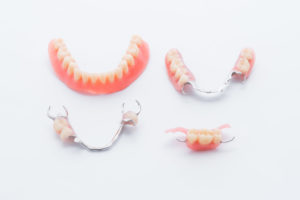 According to the American College of Prosthodontists, approximately 40 million Americans are missing all of their teeth. Are you one of them? Then you probably already know how missing teeth can lower your self-esteem and make it harder to eat a balanced diet. Fortunately, traditional dentures can restore the appearance and function of your smile – probably in just a few weeks! If you are tired of living without most or all of your teeth, dentures may be the perfect tooth replacement solution for you. Want to know more? From start to finish, here's a breakdown of the process of getting dentures.
Getting Started
Replacing missing teeth with dentures typically involves several appointments and can often be completed in about a month. However, every person's smile and situation is unique, so the total length of treatment can vary.
One important factor that impacts the length of the denture process is whether or not the patient needs to first have any remaining teeth removed. If your dentist recommends extraction, the healing process will likely add a few months to the overall waiting period.  
Making Impressions
Once you are ready to move forward with the process of getting dentures, your dentist will begin by making impressions on the ridges of your mouth. He or she may also take measurements of your bite pattern. Your dentist will use the impressions and measurements to make a wax mockup of prosthetic teeth. This model, which will be sent to a dental lab for fabrication, will help ensure your dentures will fit properly.
Adjustment Appointments
Prosthetic teeth need to be exactly the right size or else they can change a person's appearance. That is why your dentist will likely ask you to visit their office once or twice for adjustment appointments. During these visits, you will try on custom denture models to make sure your future dentures will fit comfortably and match your facial features.
Placing the Dentures
Once your final dentures arrive from the dental lab, your dentist will welcome you back for their placement. Placing dentures is a quick and straightforward visit. Once your new teeth are set in your mouth, you can walk out of the door with confidence thanks to your new, complete smile!
Are You a Good Candidate?
Are you fed up living life without most or all of your teeth? Then you are likely a good candidate for full or partial dentures. Most men and women with missing teeth but who are otherwise in good oral health can benefit from this popular tooth replacement solution.
If you are ready to reclaim an attractive, full smile, talk to your dentist about dentures in Manchester today!
About the Author
Dr. Jonathan E. Mason helps restore patients' smiles with full, partial and implant-retained dentures. The New England native is a trusted dental professional and has even been honored with the Top 40 Under 40 award from Incicsal Edge magazine. To learn more about dentures and other tooth replacement options, visit the Mason Dental website or call 802-362-1099.