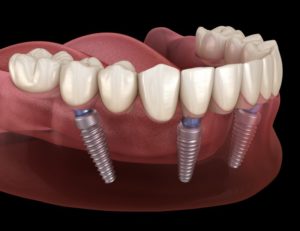 For patients who are sick and tired of a traditional denture sliding around and making it difficult to talk and eat, dental implants present a wonderful alternative. Because they're firmly embedded in your jawbone, you won't have to worry about them slipping out of place and creating awkward moments. The only question is, how many dental implants will you need to support a denture? The amount can vary from two to eight implants per jaw. To find out how many you'll need, you'll have to answer the following four questions.
Will Your Implants Go on Your Upper or Lower Jaw?
The bone of the upper jaw is softer, so more implants must be placed in order to secure a prosthesis. Usually, you'll need a minimum of four implant posts for a full upper denture. The lower jawbone is much denser, so fewer implants can provide more stability. In some cases, two implants may be all that is needed.
Do You Have a Strong Jawbone?
If you have plenty of jawbone density, your dentist can place a smaller number of long implants. But if your jawbone has shrunk, you might need a greater number of shorter implants. This may increase the cost of your procedure. However, you might be able to undergo a bone graft beforehand to strengthen the jawbone and create a stronger foundation for the implants.
Do You Grind Your Teeth?
People who habitually grind their teeth (a condition called bruxism) tend to have larger jaw muscles as a result of all of that movement. If this is the case, you might need more implants to secure your replacement teeth and reduce their chances of breaking from the pressure.
Do You Want Your Teeth to Be Fixed or Removable?
Some patients prefer to have a denture that stays in their mouth like natural teeth, while others like taking their denture out so they can clean it themselves. Generally speaking, a removable implant-retained denture won't require as many implants as one that is permanently fixed in place.
Ultimately, the only way to definitively find out how many dental implants you'll need is to schedule a consultation with your implant dentist. They can closely examine your mouth and work with you to come up with a solution that best meets your needs.
About the Practice
At Mason Dental PC, Dr. Jonathan Mason and Dr. Nicholas Guy have provided dental care to the Manchester, VT community for years. They both keep up to date with the latest advancements that dental technology has to offer. They partner with the best oral surgeons and periodontists in the greater Manchester area to help rebuild your smile with dental implants. To get started on your implant journey, contact their office at (802) 362-1099.