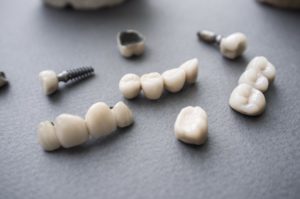 Dental crowns are ideal for protecting teeth that have become damaged over time. Damage can occur either from decay setting in due to poor oral hygiene or because of an accident involving damage to the tooth. Regardless of why your dental crown in Manchester was needed, they are not 100 percent foolproof. In fact, after enough time has passed you'll need to have them replaced to keep your teeth protected.
With that being said, your dentist wants your restoration to last as long as possible. That's why he's providing tips on ways to take proper care of restorations, especially dental crowns. Keep reading to learn the best ways to do so!
The Importance of Caring for Your Dental Crowns
Thanks to advancements in dentistry, dental crowns have become incredibly effective at restoring damaged teeth as well as making them look incredibly natural. The look of your crown may not be as big of a concern to you, especially if your crown is covering a molar, but caring for it is still incredibly important in making it last.
Food particles and bacteria can easily get underneath your crown and access the damaged area underneath if you don't clean the top and sides thoroughly. If the inner tooth becomes infected, then your dentist will likely need to perform a root canal, which requires drilling directly through your crown to access. To avoid replacing your crown too early, take these at-home care tips in mind.
How to Maintain Your Dental Crown at Home
Just like your natural teeth, caring for your crown should consist of brushing it twice a day with fluoridated toothpaste and flossing around it daily. This removes plaque and prevents bacteria from settling around and underneath it. If you struggle to floss daily, purchase floss picks or interdental cleaners. These are designed to remove dental plaque from the area where the gum and tooth meet. Missing this area can increase your chance of gum disease, putting the restoration at additional risk.
Furthermore, avoid chewing hard foods that can cause your crown to crack, fracture, or completely dislodge. This is considered a dental emergency and needs to be treated by your dentist right away. If you grind your teeth at night, purchase a custom nightguard from your dentist to protect it.
Make a Visit to Your Dentist!
The only person who can determine the condition of your dental crown in Manchester is your dentist. They can provide a cleaning that is far more thorough and effective than what you're doing at home. They can also confirm the crown is functioning properly.
Crowns last between 5 and 8 years, depending on how well you care for it. If they believe that it's time to replace the crown, they'll be the ones who can determine it. Make a habit of seeing your dentist every 6 months as recommended by the American Dental Association.
Your dental crowns deserve the best care possible. Visit your dentist in Manchester so he can make sure you're doing a good job at home!
About the Author
Dr. Jonathan E. Mason earned his dental degree from the University of Connecticut School of Dental Medicine before completing his 1-year residency at the VA Medical Center in Philadelphia. He's also a member of the American Academy of Cosmetic Dentistry, allowing him to stay updated on the latest advancements in cosmetic and restorative dentistry. To learn more about dental crowns or about his practice, contact him at (802) 362-1099 or visit his website.