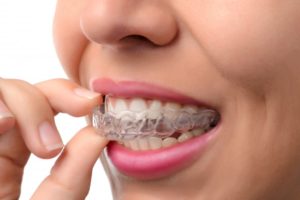 Are you constantly worried about the people around you noticing that your smile is a little crooked? You've considered getting your teeth straightened, but as you get older, there's no way you can show up for career interviews and meetings with a mouthful of metal braces. Thankfully, Invisalign in Manchester can give you the smile that stands out for the right reasons without the hassle and maintenance of wires and brackets.
What is Invisalign?
Invisalign is a series of removable clear aligners you can wear over your teeth that gradually straightens your smile. It's minimally invasive and requires no metal wires or brackets, so you don't have to hide when you hear someone shout for a family photo. They are made from an FDA-approved thin thermoplastic that is formed to apply a precise amount of force to straighten your teeth. They can help with various dental problems including:
Overbites and underbite
Gaps between teeth
Crowded teeth
Crooked teeth
The typical Invisalign treatment takes about 12 months but can vary greatly. Most people will start seeing a difference within a couple months.
What are the Benefits of Invisalign?
Invisalign doesn't just offer the convenience of no metal or wires. Invisalign was designed with aesthetic and convenience in mind. There are multiple benefits of using Invisalign to straighten your teeth over other options.
Because they are easily removable, you don't have to worry about starting a different dental hygiene routine. You can brush and floss like normal without having to worry about bits of food getting stuck between brackets and potentially leading to tooth decay. You are also afforded the convenience of eating and drinking the things you normally would without affecting them.
Your dentist will custom-fit your aligners which will comfortably form to your teeth and slightly move your teeth as needed. You will receive a series of aligners, each one represents a different stage of your smile's movement towards the desired position.
Invisalign isn't only the answer to all your dental problems, it'll also give you the confidence boost you need to get that promotion and ask that friend out on a date.
How Do I Take Care of My Aligners?
Removable aligners don't obstruct your teeth the same way that wire braces do, and they are relatively easy to take care of. It is important to brush your aligners with a toothbrush and toothpaste after every meal. You want to make sure your aligners are hygienic and clear before you put them back in.
It's important to  take out your aligners before you eat and wear them at least 22 hours each day. You can also find special soaking solutions for your Invisalign aligners to sterilize and remove plaque from them.
How Much Does Invisalign Cost?
The price of your Invisalign aligners will vary based on how long your treatment will take. According to the manufacturer, the average cost of Invisalign aligners ranges anywhere from $3,500 to $8,000. Your dentist will give you a consultation and can provide a more precise estimation. The cost of Invisalign may be slightly more expensive than braces, but the convenience of being able to continue your life with total confidence while achieving your best smile is priceless.
About the Practice
Dr. Jonathan Mason and Dr. Nicholas Guy offer the most up-to-date dental technology and innovation to Manchester. Dr. Mason was awarded a Top 40 Under 40 award from Incicsal Edge magazine and is dedicated to offering his patients a wide array of dental healthcare options. Dr. Guy was also recently awarded the 2018 Excellence in Clinical Dentistry from the University of New England School of Dental Medicine. If you have any questions or would like to schedule your Invisalign consultation, you can contact their practice website, or call them at (802) 362-1099.