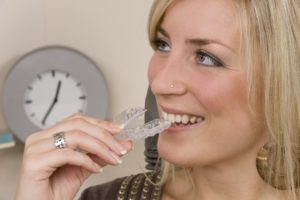 Are you unhappy with your crooked, crowded, gapped or misaligned teeth, and want them straightened? If so, Invisalign in Manchester provides a discreet and efficient way to accomplish your goal. To see the best results, though, you'll need to follow some simple maintenance steps. As you read on, learn about 3 of them so you can enjoy a beautiful smile for years to come!
What is Invisalign?
The Invisalign method consists of a series of clear aligner trays that gradually adjust your teeth until they are properly aligned. The process starts with your dentist capturing digital X-ray images that are used to develop a custom plan that will determine how many sets of trays you'll need and the length of time for your treatment.
The data is then sent to an Invisalign-certified lab that will fabricate the complete set of trays to your dentist's specifications. Therefore, you can enjoy an effective and comfortable treatment process. To ensure you experience the best results, though, you'll need to follow some simple yet important protocols.
Tip #1 – Wear Your Aligners as Directed
Your treatment plan is created with precision to deliver the results you're looking for. However, for the process to be successful, it's of the utmost importance that you wear your aligners 20-22 hours a day.
This will prevent your teeth from shifting and regressing, which could result in a longer treatment process and higher costs.
Tip #2 – Keep the Aligners Clean
When undergoing treatment with Invisalign orthodontics, it's a must that you keep the aligner trays clean. That's because bacteria growth can ruin your new smile.
Therefore, with every removal of the trays to eat or drink liquids other than water, you'll need to do the following:
Rinse the aligners with cool water as soon as you remove them.
Then, soak them in either denture cleaner or a special solution called Retainer Brite.
While the aligners soak, you should brush and floss your teeth to remove any leftover food and bacteria.
After soaking them, you can rinse and re-insert the aligners.
Tip #3 – Visit Your Dentist for Assessments
Unlike the traditional braces method, when you undergo bite correction with Invisalign, you'll typically only visit your dentist every six weeks so your progress can be assessed. Therefore, you won't have to worry about trying to fit more into your already-busy life.
Having a straight set of teeth that make you eager to smile is well within your reach. To find out more about what the Invisalign process can do for you, reach out to your dentist in Manchester to schedule a visit today!
About the Author
Dr. Jonathon E. Mason is a graduate of the University of Connecticut School of Dental Medicine. He has since taken an innovative approach to practicing dentistry, which includes staying current with the latest breakthroughs. Dr. Mason helps patients achieve the smile of their dreams with Invisalign orthodontics at his private practice, and he can be reached for more information through his website.