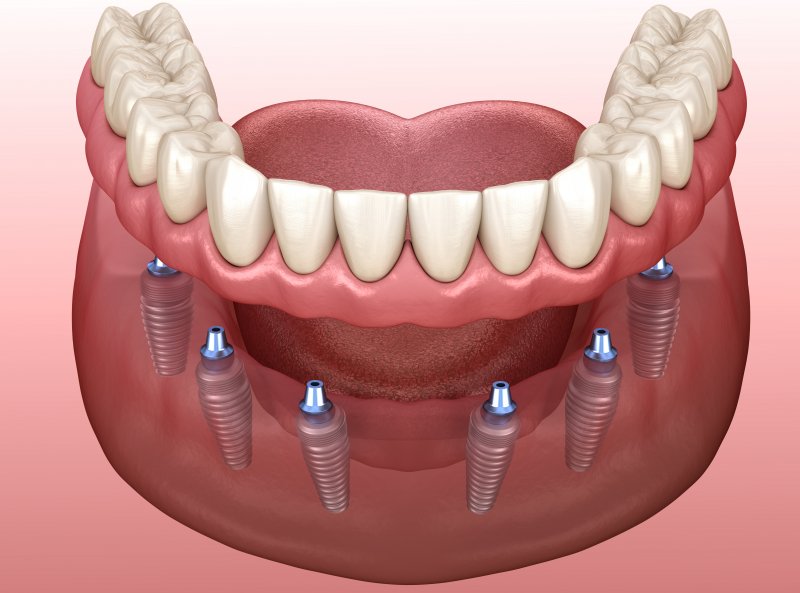 If you are missing multiple teeth, it's important to keep in mind that you are far from the only one. In fact, roughly 187 million Americans are missing at least one tooth, with tens of millions missing all of their teeth. As a result, people often consider dentures to rebuild their smile quickly and affordably. Unfortunately, dentures only go so far in the tooth replacement process. For example, if you want to protect your bone health, as well as take back your smile, you'll want to keep reading.
Why Tooth Loss Leads to Bone Loss
When you're chewing food, you're not only breaking it down so your body can process it and absorb its nutrients. You're also stimulating the bone tissue that is holding your teeth. When teeth are missing, the area of bone that was previously responsible for holding that tooth no longer receives active stimulation. This causes the bone to break down (or experience atrophy), which in turn can increase the risk of future tooth loss.
Dentures Only Go So Far
Dentures are made up of an artificial gum base and contain replacement teeth to not only make your smile complete, but ensure you can eat a wider range of foods again. Every denture is customized to fit exactly in a person's mouth, allowing it to feel comfortable and remain stable while in use. However, they don't address the root cause of bone loss, even though they bring the smile back.
In fact, there's growing research showing that dentures could be increasing the breakdown of the jawbone. What dentists know for sure is that the longer a person goes without teeth, the more their bone tissue changes, both in shape and volume. This is why denture wearers typically need to have their denture either refitted or replaced entirely just five to seven years after receiving it.
Why You Should Consider an Implant Denture
The good news is there are other options available that work to replace teeth to the fullest and prevent the jawbone from breaking down further. This treatment is known as implant dentures, which combines dental implants with dentures to create a stable, reliable, and long-lasting solution for severe tooth loss.
Dental implants are similar to other surgical implants (such as hip replacements) in that they integrate with existing bone tissue organically. This biocompatible factor is crucial in replacing specific areas of the body. In the case of dental implants, they replace the root that extends into the jawbone.
By placing a series of implants throughout the jaw, a denture can then be attached to make the smile complete and ensure bone tissue gets the regular stimulation it needs.
You don't have to settle for a tooth replacement that doesn't have your long-term oral health in mind. Speak with an implant dentist today to learn more about the process and see if treatment is right for you!
About Mason Dental
Dr. Mason and Dr. Guy are proud to partner with some of the most experienced implant specialists in the area in order to provide you with comprehensive dental implant care and a highly personalized treatment process. Their dental expertise combined with their office's advanced modern technology are sure to give you confidence about your future tooth replacement, including with implant dentures. To schedule an appointment, you can contact them through their website.