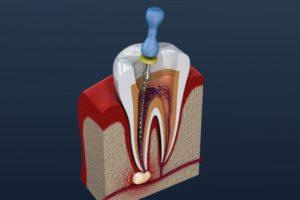 A few months ago, you faced your fears and got that root canal you'd been needing. It turned out that you didn't have any reason to be frightened in the first place. The whole thing didn't feel any worse than getting a simple filling. However, recently you've started feeling pain in the tooth again. What does this mean? Can a root canal require re-treatment? Continue reading to find out.
How Can You Teel If Your Infection Is Back?
Signs of reinfection after root canal treatment are generally the same as the original infection. The most common one is a severe toothache that prevents you from living your daily life. This would be considered a dental emergency, so be sure to call your dentist right away if this happens. Other symptoms of a tooth infection include swelling, discoloration of the area, and sensitivity to hot and cold foods and drinks.
What Can Your Dentist Do?
Your dentist can perform a procedure called an apicoectomy. Although it sounds like a mouthful, it's basically a fancy term for removing the infected tip of the root from the tooth. Sometimes after root canal therapy, infection can remain deep within the tooth root and resurface weeks or even months later. An apicoectomy is one way to take care of that, since most of the time, the infection starts near the tip of the tooth root. It can be done to save the tooth from needing to be extracted.
Before the procedure, your dentist will take x-rays to determine that an apicoectomy is what's needed, and not just a retouching of your root canal. You will likely be prescribed pain relievers, antimicrobial mouth rinse, and/or antibiotics beforehand just to make sure the whole process goes smoothly and there's no chance of reinfection afterwards.
During the apicoectomy, your dentist will lift the gum away from the tooth so that the root is visible. The infected tissue, as well as the last few millimeters of the tooth root, will be removed. Your dentist will use ultrasonic instruments under a microscope to carefully accomplish this. The whole procedure generally takes between 30 and 90 minutes, depending on where the tooth is located.
You may experience some swelling, soreness, or numbness after the apicoectomy, but that is normal. Many people say it's actually easier than recovering from the original root canal treatment.
If you think your root canal has become reinfected, contact your dentist first thing to schedule a consultation for an apicoectomy.
About the Author
Dr. Jonathan Mason graduated from the University of Connecticut School of Dental Medicine in 2006. Following that, he completed a one-year residency at the VA Medical Center in Philadelphia. Currently, he has his own practice in Manchester, VT. If you think your tooth infection has come back, don't hesitate to contact Dr. Mason at (802) 362-1099.