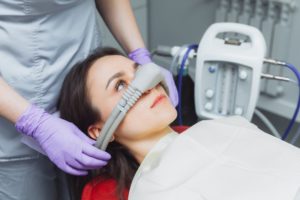 If you've ever felt nervous at the dentist, consider yourself in the majority. In fact, it's estimated that approximately three-quarters of Americans experience at least mild dental anxiety. Maybe you've heard about a bad experience someone else had at the dentist or the sound of the drill gets to you – whatever the reason, nitrous oxide sedation can enable you to get the treatment you need while you remain calm and collected. Though this invisible gas is highly effective, it's not for everyone. Keep reading to learn from your dentist in Manchester how it works, why it's helpful, and who is a viable candidate to benefit from it.
How Does Nitrous Oxide Sedation Work on a Dental Patient?
Sedation dentistry is utilized by most dental practices to help patients relax as they receive treatment. One of the more common options is nitrous oxide. It's an odorless, invisible gas that is administered through a comfortable nosepiece prior to treatment.
After a few minutes of breathing through their nose, the patient can feel their arms and legs getting heavy before they enter a deep state of relaxation. Though the sedative doesn't actually put a person to sleep, the calming effects can lead to a patient nodding off.
A person can still respond to verbal cues the entire time they are breathing nitrous oxide and can easily "awake" once they quit breathing the gas. After treatment, the nitrous oxide is turned off and oxygen flows through the nosepiece. Within minutes, the effects have totally dissipated.
Why is Nitrous Oxide Sedation Beneficial to a Patient?
Nitrous oxide is a dependable sedation option that aids dentists, as well as patients. It's helpful because:
Patients who experience jaw, neck, or back pain in the treatment chair can get relief
Your dentist can get more work completed in one visit
You feel no lingering side effects, such as drowsiness, which might result from other sedatives
The level of sedation can be controlled by the dentist based on your needs during the visit
Your feelings of anxiety are suppressed so you can relax
What Determines Who Is a Good Candidate to Use Nitrous Oxide Sedation?
Nitrous oxide is helpful for people who require a lot of dental work during one visit or those who simply need help relaxing to make it through an appointment. It has been clinically researched and tested extensively, so you don't have to worry about any unknown effects regardless of a patient's age.
Plus, your dentist will review your medical history to verify that it is appropriate for you. Conditions such as pregnancy or emphysema could cause a patient to be deemed unsuitable for sedation. If that is the case, your dentist will discuss other options to help you feel comfortable.
Dental treatment is very important and nitrous oxide is helpful to ensure that you don't avoid getting the help you need. To find out if it's right for you, schedule a consultation with your dentist in Manchester and put dental fears behind you!
About the Author
Dr. Jonathan Mason earned his dental doctorate at the University of Connecticut. He is a member of the American Dental Association, the Academy of General Dentistry, and the American Dental Society of Anesthesiology. If you are interested in nitrous oxide sedation, oral conscious sedation, or IV sedation, schedule an appointment on his website or call (802) 362-1099.