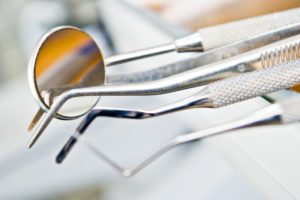 Some people watch their dentist scrape away plaque and tartar from their teeth during their checkups and cleanings and wonder why they can't save themselves an appointment and take care of that themselves, at home. Your professionals are specially trained to clean and examine your mouth without causing any damage or harm, unlike yourself. Here's why you shouldn't try to remove plaque by yourself.
What's So Special About Dental Cleaning Tools?
Most people are familiar with the infamous tray of metal tools that your dentist or hygienist wheels around you whenever they're about to examine or clean your teeth. In fact, a great number of people in America are intimidated by them and have severe dental fears that keep them from scheduling appointments in the first place. If this is one of the reasons that you've been trying to clear plaque from your mouth at home, check to see if your dentist in Manchester offers sedation techniques to make you more comfortable and relaxed!
Among these tools are dental mirrors and scalers. These help your professional give up-close, thorough, and personal cleanings that remove all plaque and tartar from those hard-to-reach crevices of your mouth. Plaque and tartar can build up on your teeth if they're not regularly removed, causing problems like gum disease and tooth decay. However, not all plaque should be removed at home.
Problems Caused By At-Home Plaque Scraping
You've probably seen plaque scrapers that you can buy at your local drug or grocery stores. However, just because they're available, doesn't mean you should use them. It takes special training to be able to safely scrape off plaque and tartar from your teeth without accidentally damaging your gums. In fact, dental hygienists and dentists go through years of extensive training to be able to do this.
Because these tools are sharp, they can easily cause gum damage and recession, which is when your gums move away from your teeth and expose the sensitive roots. If you're not sure what signs to look out for that your oral tissues have been harmed, it could develop into an infection. Tartar can also accidentally be shoved under the gumline, causing oral health problems.
How To Safely Remove Plaque and Tartar
If you're worried about plaque and tartar buildup, visit your dentist for a semi-annual checkup and cleaning. They'll be able to take care of any oral health problems and leave your mouth feeling healthy as ever. To limit plaque accumulation at home, be sure to floss every day and rinse with an antibacterial mouthwash after. Also, don't forget to brush your teeth for two minutes, at least twice every day.
It's never healthy to take a gamble on your mouth and treat it like a DIY project. Often times, most at-home activities that you think will save you money are going to end up costing you more down the road. Keep your mouth in peak condition by visiting a trained professional!
About the Author
Dr. Jonathan Mason completed a year-long residency at the VA Medical Center in Philadelphia and has a wealth of dental knowledge that he loves sharing with his patients. He focuses on providing everybody that walks through his doors with high-quality preventive treatment that tackles the small problems before they ever have a chance to progress. He is also an active member of several professional organizations, allowing him to stay up-to-date with the latest advancements in his field. For questions or to schedule a routine checkup and cleaning, visit his website or call 802-362-1099.